So Long Jose…
November 28, 2022
I remember the first time I met Jose Abreu. It was SoxFest, 2014, the Sox had just signed him and he was appearing. I had been in line for Bo Jackson or maybe Chris Sale before that and he was signing next so we just got back in line. I was alone that year, but had a conversation with a guy about the new player from Cuba. I really didn't know much about him at all and the guy ahead of me loved him. I was gonna get Jose to sign my pass as I didn't have a ball or anything, but the guy gave me a MLB ball to get signed. He said, and I quote, "You're gonna want this later."
He wasn't wrong. Jose Abreu lived up to all the hype. Jose Abreu always competed. Jose Abreu left everything he had on that field each season he ran out there. And while $20 million a year is quite shocking, I have no doubt at all that Jose Abreu will make it worth their while. He's a clubhouse presence. He's a leader. He's everything you want in a player and a teammate.
Rationally I understand why Jose needs to be on another team. This Sox FO is betting on youth and Jose ain't young. A full year of Andrew Vaughn at 1B will be interesting. Eloy at DH should produce some great numbers. It's time these guys get a shot and play in a position they are supposed to be playing. Both Andrew and Eloy can put up monster numbers and with Jose gone they will have to do it. Jose won't pick them up next year. We placed a big futures bet on youth today folks, let's hope it works out.
So I get it, we had a logjam there and we needed to move someone. What is sorta disturbing though is how grossly the Sox underestimated his value. They let the guy walk for nothing. He just got a huge payday at the end of his career and the Sox did nothing to leverage that. It's sad to me that the guy who wanted to sign himself to this team a few years ago didn't even want to play the last game of the year in 2022. What happened? Maybe the relationship soured. Maybe the lack of big name signings finally got to him. Maybe the lack of respect finally caught up. Or maybe he finally felt ok to move on. We might never know.
The Sox moving on from fan favorites is nothing new. Frank Thomas had a few years left in the tank, but again, we had a guy waiting in the wings to take over that position. Paul Konerko famously signed the team friendly deal after 2005 leaving millions on the table. Pauly was the only one out of the last three All Star first basemen to get his due on the Southside in the end. And right now, we are replacing an All Star first basemen with Andrew Vaughn. Nothing against Andrew, but he has some serious shoes to fill as well as numbers to hit. He's replacing both a legend and a leader.
Beef and Chorizy will talk about how during the lean years in the mid to late 80's we only had Harold Baines to look at in the ASG. Well, aside from a few fan favorites (Palka), during the rebuild Jose Abreu was the one providing the entertainment. From hitting the cycle on only two hours of sleep, to winning 3 Silver Slugger awards, Jose Abreu was just amazing on that field. And every year we learned more about him, how important his family was to him and all the sacrifices he made to be here. And then in 2019 when he was signed back to the White Sox, some fans talked a bunch of shit. So Jose went out there and did what anyone would do when they are told they didn't deserve what they just got, he won the fucking MVP.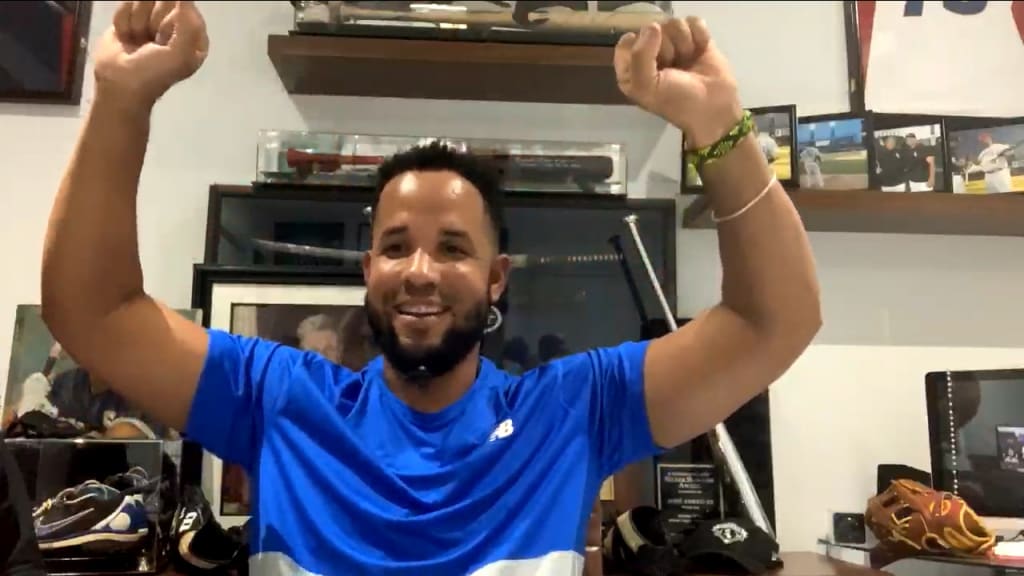 Not only did he win it, his 2020 year was amazing. His performance at Wrigley Field will always be remembered. 6 home runs in 3 games. On his back he took the 2020 White Sox to their first playoff series since 2008. Of course the White Sox lost that series, but it was hopefully a sign of things to come. While the Sox made the Playoffs the following year, they still didn't have the stuff to get past the Astros. 2022 was a major disappointment on the field as well, so while favored to win the division by most media types, the Sox under performed in what will be the final year of Jose Abreu as a White Sox.
I think what I liked most about Jose Abreu was he wasn't flashy and he was out there performing every day. He never took days off and he was by far one of the older guys out there. But even as that older guy he still produced and that will be greatly missed in 2023. He was a top hitter on a team that was supposed to be loaded with them. His defense wasn't always the best, but every so often you'd watch Jose make a play that you knew no one else on that team could do. He was just a joy to watch, a fun guy to see out there, still kicking ass in his mid 30's (allegedly).
I won't be the only one missing Jose Abreu on April 3rd, 2023…and I shouldn't be. I hope that Andrew Vaughn becomes what we think he can become. I hope Eloy at DH stays healthy and puts up the numbers he has shown he can. I know it wasn't in the cards to bring back my favorite player in 2023, but it won't make it any easier watching him crush balls in Houston for the next 3 years. Thanks for all you did for us on the Southside Jose, we appreciate you and your efforts on that field. Hell off the field too. You made a difference and an impact on the entire Southside Jose. You'll be missed.
-MSS